14th Annual Stony Mountain Criterium
Wednesday June 7th, 2017
2016 results here.
2015 Results here.
Photos from Greg McNeill here.
FOG Cycling Club presents the 14th annual Stony Mountain Criterium! This Monument of the Manitoba Road Cycling calendar is held in the town of Stony Mountain, just 10 km North of the Perimeter on Hwy 7.
Volunteers:
Course marshals are required from 6:30 to ~9:30. Volunteer information is here. Please contact Marc at marc.fournier.wpg.can@gmail.com if you can help.
Entry and Registration:
Note that all competitors including online pre-registered must sign-in with the commissaires no later than 30 minutes prior to their race start.
Save $10 by pre-registering online at CCN here.
Pre-registration closes 11:59 pm Sunday June 4th
Race day entry fee is $30 on race day adults, $20 for U19.
Schedule:
NOTE: Arrive early. TIMES ARE SUBJECT TO CHANGE depending on participation.
Event Duration Reg. Opens Reg. Closes Start
Cat 5 20 min + 2 laps 6:00 30 minutes before race start 7:00
Cat 4 30 min + 2 laps 6:00 30 minutes before race start 7:45
Cat 1/2/3 40 min + 2 laps 6:00 30 minutes before race start 8:30
A valid UCI Racing License or Manitoba Citizen's License is required.
Course:
The Start/Finish and parking is on Dufferin Drive at Pike's Peak Toboggan Hill. Each lap
is 1.5 km and the elevation change per lap is about 60 feet.
​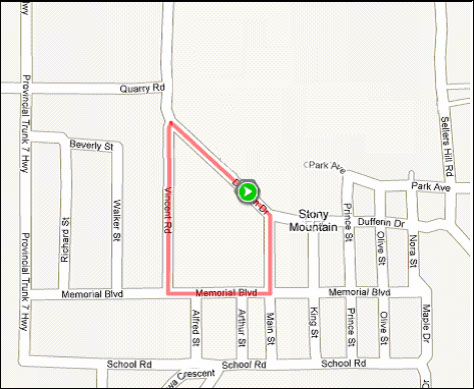 Parking: Competitors and spectators arriving early can park at Pikes Peak at the
start/finish. DO NOT PARK ON THE COURSE.
Directions:
From the Perimeter, go North on Hwy. 7 for 10 km. Turn right at Stony
Mountain then left at the Penitentiary entrance. Go north for 1.6 km. Turn right at Quarry
Road (Route 74 North), turn left on Vincent then right on Dufferin.
Contact:
To volunteer of for more information: marc.fournier.wpg.can at gmail.com